SF State's Department of Biology offers a dynamic learning environment, exciting research opportunities and mentorship by world-class scientists. Our undergraduate and graduate programs are all designed to train and educate students to meet the challenges of leadership roles in the biological sciences. We invite you to learn more about our mission and approach to education.
 
We welcome all aspiring biologists who want to contribute to their communities and to the world.

Explore Biology Opportunities
Announcements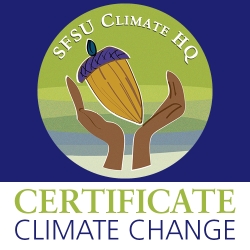 Climate Change Certificate For Spring 2022
Earn a Climate Change Certificate by June 15!
Earning Climate Change Certificates works differently from earning degrees at SF State. There is no need to apply for or declare the Certificate. Instead, follow these 3 steps:
Step 1: Complete the Certificate Coursework
Step 2: Pay Certificate Program Fee
Step 3: Complete a CAP Form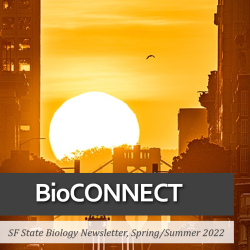 Newsletter, Srping/Summer 2022Issue
We are pleased to present the fourth edition of BioCONNECT. This issue aims to highlight the work the department is doing to serve our students by spotlighting the anti-racist efforts by those in our ranks.
We hope you are enjoy this issue and please consider donating to the Biology department.
News & Events
Quick Links