PALS – Peer Assistants for Learning Science – is a service learning course and program.
PALS is focused on making biology classrooms and course curriculum more inclusive, equitable, and welcoming for students of all backgrounds, especially first-generation college-going students, students of color, and transfer students.
NOTE: The PALS and LEADS programs have been combined so that student leaders and faculty can partner in class meetings once a week AND collaborate on developing inclusive teaching materials.
This combined program will be referred to as PALS going forward (Fall 2022).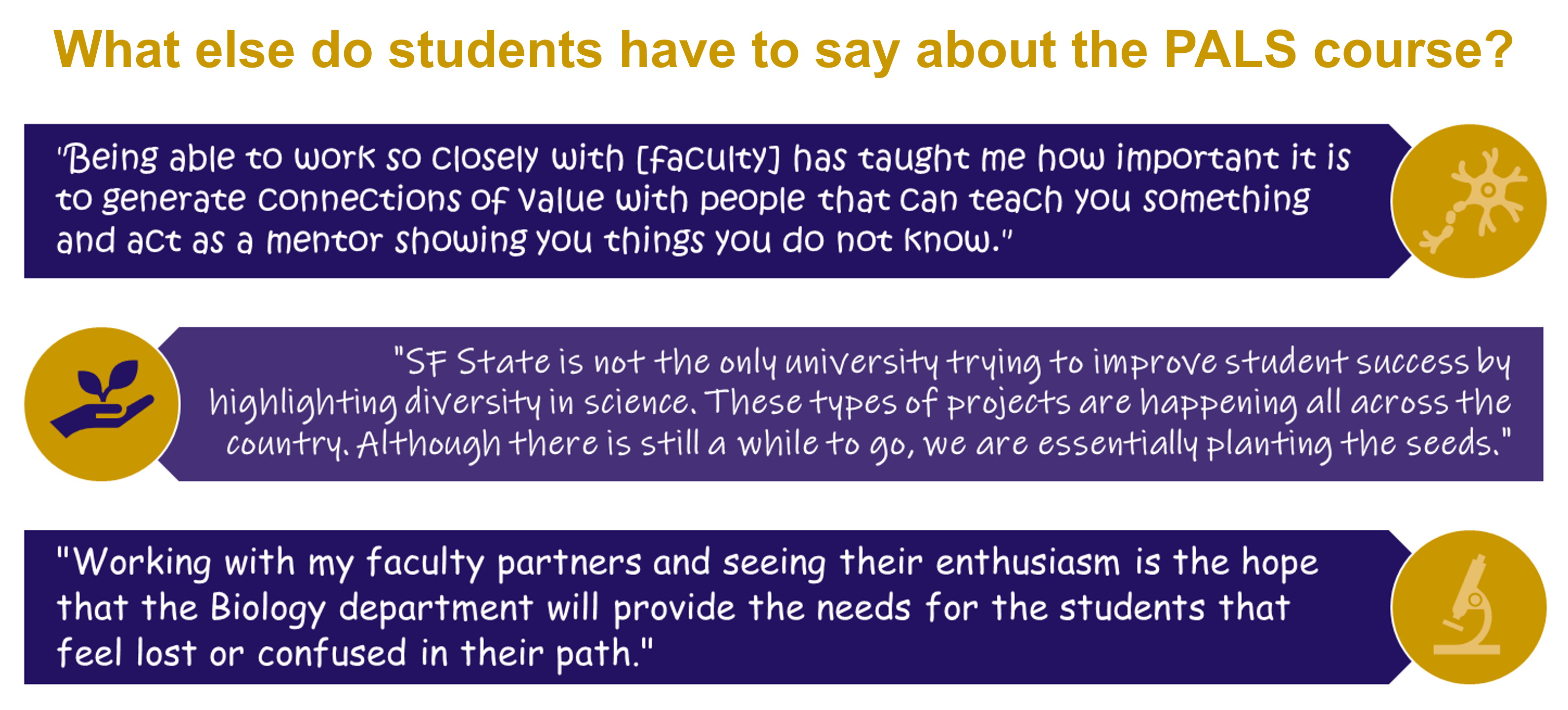 Yes! PALS participation includes 4 units that count towards students' biology degree as upper division, major elective units! Students who participate in both PALS (Biol 654) and LEADS (Biol 644) can only have one course count toward their degree.
Invited SFSU Biology student leaders must be able to attend the class portion of the course (every Friday from 12-1:40 pm on Zoom for Fall 2022).
Students will examine issues involving equity and diversity of scientific teaching with a specific focus on the development of inclusive practices within the upper-division courses in Biology.
Students will be involved in developing active learning exercises and assessments in their faculty/course partnerships that aspires to increase diversity and inclusion in Biology. For example, students will build Scientist Spotlights to showcase more biologists from diverse backgrounds in their partnered classroom. Students will also be present in the classroom to make observations and promote student-centered innovations for teaching.
PALS students have had a significant impact across the biology department at SF State. Specifically, biology students who were enrolled in PALS/LEADS partner courses increased in their relatability to scientists (Aranda et al., 2021).
PALS is a super hands-on course and an amazing opportunity to partner with SFSU biology faculty to change what is taught to include the stories of scientists who represent diverse personal and cultural backgrounds. The knowledge and skills that students gain from PALS are strengths that they bring into their future careers as educators, researchers, healthcare workers, and more in all fields of biology! This includes but is not limited to:
Gaining leadership, communication, and mentoring skills
Networking with other scientists from diverse backgrounds
Learning about how to create a sense of belonging in the classroom
Understanding how we can connect science to communities