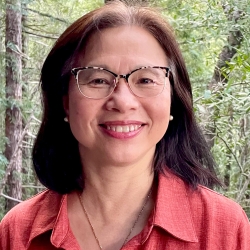 Lily Chen
( She/Her/Hers )
Professor
State University of New York, Buffalo
Phone: (415) 338-6763
Email: lilychen@sfsu.edu
Location: Office Hensill Hall 546, 548; Lab Hensill Hall 512, 514
Field: Cell and Molecular Biology
At SF State Since: 1998 
Specialties: Microbial pathogenesis, public health microbiology, biotechnology and Professional Science Master's degree 
Professor of Biology, Dr. Lily Chen, is a member of the Biology Graduate Council, College Biosafety and Radiation Safety Committees, and SF State Academic Senate.  She is the Campus Lead Faculty for the CSU Professional Science Master's (PSM) Initiative (2004-present), Director of SF State's PSM program (Master of Science in Biotechnology and Stem Cell Science) and the principal investigator of the National Science Foundation Science Master's program. Dr. Chen has served in professional leadership roles in several SF State/CSU committees.  She was appointed to the Health Equities Initiative Advisory Committee in 2005 - 2007, served as President of the SF State Chinese American Faculty and Staff Association in 2006 - 2008, and the Academic Policies Committee in 2012 - 2013.
Dr. Chen earned a Bachelor in Medical Technology from the National Taiwan University College of Medicine in Taipei.  She received a Masters's and Ph.D. in Microbiology from the State University of New York School of Medicine in Buffalo.  From 1990 - 1992, Dr. Chen was a Postdoctoral Fellow with the Whitehead Institute for Biomedical Research at the Massachusetts Institute of Technology in Cambridge. From 1992 - 1995, she served as a Postdoctoral Fellow with the Department of Biochemistry and Biophysics at the Gladstone Institute of Virology and Immunology at the University of California, San Francisco.  From 1995 - 1998, Dr. Chen was an Assistant Professor and faculty member of the Graduate College at the University of Vermont, Burlington.  She joined the SF State faculty in the Center for Biomedical Laboratory Science (CBLS) in 1998, and served as the Coordinator of the Master's in Biomedical Laboratory Science degree program when CBLS and Biology merged in 2006.
Dr. Chen's research focuses on human and animal microbial diseases caused by viruses and bacteria, and applied research in biotechnology and stem cell science.  Specific research focuses on pathogenesis, microbial gene expression/regulation, drug resistant mechanisms and education outreach for prevention of public health diseases.
Dr. Chen teaches undergraduate microbiology courses and master's curriculum in biotechnology and stem cell technology.  She has served as the primary thesis advisor for more than 50 master's graduates and as a committee member for an additional 50 master's theses.