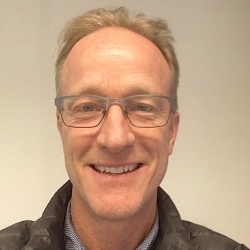 Vance Thomas Vredenburg
( He/Him/His )
Department Chair/Professor
University of California Berkeley
Email: biology@sfsu.edu
Location: Hensill Hall 534 Lab: 754
Field: Ecology and Evolution
At SF State Since: 2007 
Specialties: Ecology of emerging infectious disease, amphibian ecology and biogeography, aquatic food webs 
External Personal Website:
Vance Vredenburg was raised in Mexico and the United States. His scientific training began as an undergraduate at the University of California Santa Barbara where he worked on ecological research projects in coastal California, Alaska, the Caribbean and Antarctica. His Ph.D. from the University of California at Berkeley (2002) included whole-lake experiments that showed that recovery of threatened frogs in the Sierra Nevada, California is possible with the removal of introduced fish predators (trout).
Research in the Vredenburg lab focuses broadly on ecology, evolution and conservation in the context of climate change. Most projects in my lab focus on amphibians, though we also study bird behavior and communication. My lab incorporates elements of population, community, and behavioral ecology to investigate hypotheses that can explain vertebrate species loss as our climate changes. These include studies of the impacts of emerging infectious disease, introduced predators, and habitat destruction. Our approach uses a combination of field and lab-based experiments as well as comparative methods (using museum specimens).