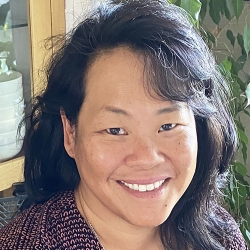 Diana Chu
( She/Her/Hers )
Professor
University of California, Los Angeles
Phone: (415) 405-3487
Email: chud@sfsu.edu
Location: Hensill Hall 764
Field: Cell and Molecular Biology
At SF State Since: 2001 
Specialties: Epigenetics, chromatin, gene expression, chromosome dynamics, male fertility 
External Personal Website:
We use the model organism C. elegans to understand how chromosome architecture and dynamics influence gene expression and male fertility.
Project 1:  Histones are proteins that package DNA. We've identified a histone H2A variant in C. elegans we have named HTAS-1. Our initial analysis has revealed that HTAS-1 is a sperm-specific histone H2A variant.  We are using genetic analysis to determine if worms with a mutant htas-1gene are infertile. We've shown that HTAS-1 is indeed required for optimal fertility and are now currently investigating the role of HTAS-1 in chromosome compaction by fluorescence microscopy. 
Because histone H2A variants in other organisms are important for gene expression, we are also determining if HTAS-1 is important for regulating gene expression during sperm formation. Initial DNA microarray data has indeed identified many genes whose expression is changed in the htas-1 mutant. We are now investigating the role of HTAS-1 in regulating these genes.
In addition, because HTAS-1 protein differs from canonical H2A proteins in the sequence of the N-terminal tail region (which is known to be post-translationally modified), we are characterizing post-translational modifications that occur on this sperm-specific histone H2A variant.
                                            
Project 2: Chromosome segregation during sperm meiosis differs from that of oocyte meiosis and mitosis. We are interesting in defining how these differences are implemented.
We have identified a set of phosphatase proteins we call GSP-3 and GSP-4 that play roles in sperm chromosome segregation. We are characterizing the role of GSP-3 and GSP-4 using genetic mutant analysis and immunostaining. In order to differentiate how the sperm-specific phosphatases (GSP-3 and GSP-4) differ in function from phosphatases found in oocyte meiosis and mitosis (GSP-1 and GSP-2), and characterizing how GSP-1 and GSP-2 function in sperm meiosis. We are also initiating efforts to look for proteins that interact directly with GSP-3 and GSP-4 by coimmunoprecipitation. 
Han T., Manorhan A.P., Harkins T.T., Bouffard P., Fitzpatrick C., Chu D.S., Theirry-Mieg D., Thierry-Mieg J., Kim J.K. Germline-generated 26G endo-siRNAs regulate spermatogenic and zygotic gene expression in C. elegans 
Proc Natl Acad Sci U S A. 2009 Nov 3;106(44):18674-9. Epub 2009 Oct 21. 
 
Shakes D.C., Wu J., Sadler P.L., LaPrade K., Moore L.L., Noritake A., Chu D.S.
Spermatogenesis-specific features of the meiotic program in Caenorhabditis elegans
PLoS Genetics  2009 Aug;5(8):e1000611. Epub 2009 Aug 21. 
 
Wu T.F., Chu D.S. 
Sperm chromatin: fertile grounds for proteomic discovery of clinical tools. 
Mol Cell Proteomics. 2008 Oct;7(10):1876-86
 
Wu T.F., Chu D.S. 
Epigenetic processes implemented during spermatogenesis distinguish the paternal pronucleus in the embryo.  
Reproductive BioMedicine Online 2008 Jan;16(1):13-22
 
Chu D.S., Liu, H., Nix, P., Wu. T.F., Ralston E.J., Yates, J.R., and Meyer B.J. 
Sperm chromatin proteomics identifies evolutionarily conserved fertility factors. 
Nature. 2006 Sep 7, 443(7107):101-5
 
Chu D.S., Dawes H.E., Lieb J.D., Chan R.C., Kuo A.F., and Meyer B.J.
A molecular link between gene-specific and chromosome-wide transcriptional repression.
Genes and Development 2002 Apr 1, 16(7): 796-805