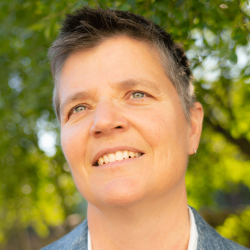 Laura Burrus
( She/Her/Hers )
Professor and Chair
University of Wisconsin
Phone: (415) 338-7680
Email: biology@sfsu.edu
Location: Hensill Hall 710
Office Hours: Only available if referred by a Biology advisor; if you need a form signed, please leave it in the Biology office (HH534) for my signature. Thanks!
External Personal Website: Burrus Lab
Specialties: Developmental biology, cancer biology, neural tube patterning, cell signaling, generation of morphogen gradients, biochemistry of Wnt lipid modifications
I am a woman and a member of the LGBTQIA community. I am passionate about working with students and faculty from diverse backgrounds.
Though I was trained as a biochemist, I am now a Cell, Developmental and Molecular Biologist. In my free time, I love to be outside (hiking or biking) and I enjoy photography.